Nursing Excellence
Message from Senior Vice President and Chief Nursing Officer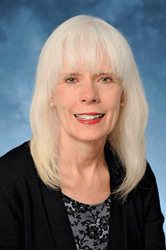 At Valley Presbyterian Hospital, nursing is dedicated to meeting the needs of our community by offering quality care through caring, effective communication and evidence-based best practices.
Our nursing staff works as a team to deliver the highest level of care and service possible for every patient, and their family members. Our nursing model is rooted in relationship-based care, and our goal is to primarily empower each patient — and their loved ones — to be actively involved in their individualized healthcare plan.
Valley Presbyterian Hospital nurses demonstrate a strong and steadfast commitment to the organization's core values that includes respect and dignity in a compassionate and patient-centric care manner that addresses their diverse cultural needs. At Valley Presbyterian Hospital, nurses also work to promote trust and transparency in the environment of care, helping each patient to feel safe and comfortable.
We offer competitive wages and benefits to attract and retain top talent, and Valley Presbyterian Hospital is one of only a few in the Los Angeles area that offers a new RN residency program, designed to place qualified nursing graduates in nursing specialties. To support the development of staff, and promote evidence-based nursing practices, we host nursing education opportunities, skills training, and leadership workshops throughout the year. We have a generous tuition reimbursement program for qualified employees as a means of encouraging nurses to further invest in their career and patients care by advancing their nursing education.
I am proud to be a part of the Valley Presbyterian Hospital nursing team. Our nurses work in a collaborative spirit with our physician partners and specialists to meet the healthcare needs of patients and families in the San Fernando Valley community. Together we are living out our mission and striving to attain the vision of "excellence in all we do" in our quest to improve the overall health of the community we serve.
Lori Burnell, RN, PhD, NEA-BC
Senior Vice President, Chief Nursing Officer