Valley Rehabilitation Center
Restoring Confidence and Skill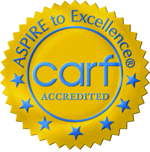 Valley Rehabilitation Center is a 15-bed CARF accredited acute rehab facility, which treats patients that have been discharged from healthcare facilities in the San Fernando Valley region and surrounding areas. Our rehab center offers physical, occupational, and/or speech therapy services to patients prior to returning home.
Located on the Valley Presbyterian Hospital campus, the Center offers comprehensive services and compassionate care from our expert staff. The team at Valley Rehabilitation Center is committed to restoring independence and quality of life for patients who have suffered a major injury or illness.
Multidisciplinary Care
Patients of Valley Rehabilitation Center receive an exceptional level of care from a team of specialists.
Our multidisciplinary team includes certified rehabilitation registered nurses, physical/occupational therapists, speech therapists, dietitians, orthopedic/ prosthetic consultants, a social worker and a neuropsychologist.
Therapists guide you through one-on-one therapy, daily physician visits, education and a customized therapy treatment plan to help you regain health and well-being and return to your home.
Comfort and Quality
The Valley Rehabilitation Center features a comfortable patient dining area, activity room, and a therapy gym with access to an outdoor patio. The Center also includes an "activities of daily living" (ADL) kitchen that reproduces the experience of living at home in a safe and supervised environment.
As part of its commitment to patient health and wellbeing, the Valley Rehabilitation Center has been certified by the Commission on Accreditation of Rehabilitation Facilities (CARF). This important designation is given to healthcare providers who deliver ever-greater quality of patient care and community services.
Treatments for Various Conditions
Valley Rehabilitation Center treats these and many other related conditions:
Stroke
Brain Dysfunction (Traumatic or Non-Traumatic Injury)
Spinal Cord Dysfunction (Traumatic or Non-Traumatic Injury)
Amputation
Neurological Disorders
Major Multiple Trauma
Orthopedic Conditions (Major
Multiple Fractures, Hip Fracture, Pelvic Fracture, Bilateral knee/hip replacement)
Congenital deformity
Other debilitating conditions
Severe or Advanced Arthritis (Rheumatoid, Psoriatic, Seronegative and Osteoarthritis)
For more information or to schedule an appointment, call 818.902.5752.