Primary Stroke Center
We Are a Certified Primary Stroke Center
A stroke is a blockage of blood flow and oxygen to the brain, which can result in impaired movement, speech and memory impairment, brain damage, and death. When a stroke occurs, speed of diagnosis and treatment is critical to minimize damage to brain cells and loss of function.
Valley Presbyterian Hospital is certified as a Primary Stroke Center based on our response to critical patient conditions. The certification is provided through a partnership between the American Heart and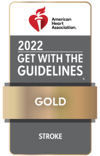 the American Stroke Association, and DNV Healthcare. As a Primary Stroke Center, we have demonstrated the ability to meet standards to support better outcomes for stroke care. In 2022, we also received the American Heart Association and American Stroke Association's Get With The Guidelines Stroke Gold Plus With Target: Type 2 Diabetes Honor Roll award. We are proud of the commitment we have made to turn treatment into lifelines for our patients and help them achieve the best possible outcomes in diabetes cardiovascular care.
We have a dedicated stroke-focused program that is staffed by qualified medical professionals who are specially trained in stroke care and who use advanced technologies to act quickly and save patients' lives. We offer care to meet stroke patients' individual needs and we involve patients in their treatment plan.
If you or a loved one is experiencing an emergency, call 911.
For more information about our Primary Stroke Center, contact us at 818.782.6600 or email us by using our contact us page.