Meet the WHC Medical Staff
Liva L. Yates Gritton, MD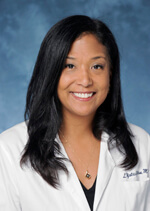 Medical Director, Wound & Hyperbaric Center, and Center for Wound Healing
Liva Yates Gritton, MD has focused on improving the life of each patient she treats, not only through medicine but also with patient advocacy and compassion.
Dr. Yates Gritton received her Medical Doctorate from the University of California, San Diego and completed her internship at Harvard Medical School at Cambridge Hospital. In 1995, she completed her residency for Physical Medicine and Rehabilitation, and received the designation from the University of California, Irvine. That same year, Dr. Yates Gritton shared her passion for medicine and rehabilitation as an Assistant Adjunct Professor in the Department of Physical Medicine and Rehabilitation, UC Irvine, where she later became a Medical Director in Acute Rehabilitation services. In 2007, Dr. Yates Gritton assisted in opening the Valley Rehabilitation Center at Valley Presbyterian Hospital, and has been the Medical Director since. In 2015, she became the Medical Director of the hospital's Wound and Hyperbaric Center.
With her unwavering commitment to serving the community, Dr. Yates Gritton strives to provide the best quality of life for each individual she sees.
James Burks, Jr., MD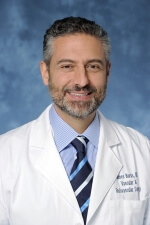 Dr. Burks is board-certified by the American Board of Surgery and the American Board of Vascular Surgery and specializes in vascular and endovascular surgery.
After receiving his undergraduate degree from Carnegie-Mellon University, he earned his Doctor of Medicine degree from the School of Medicine at New York University, where he was elected into Alpha Omega Alpha, a national honor society for medical students. His general surgical training and chief residency were completed at the Columbia University School of Medicine and Columbia-Presbyterian Hospital in New York City. Dr. Burks completed his vascular and endovascular fellowship at Mount Sinai Medical Center in New York.
He has been in practice for more than a decade and has held many leadership roles, such as Chief of Vascular Surgery and Chairman of the Peripheral Vascular Interventions Credentials Committee at South Miami Hospital. He has published numerous research papers in peer-reviewed journals. He also holds an MBA from the University of Miami.
Samuel Kashani, MD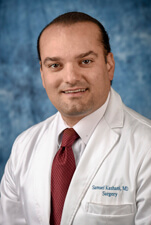 Samuel Kashani, MD is board-certified in general surgery by the American Board of Surgery with expertise in pressure ulcer management and the use of alternative tissues to cover wounds. He has specialties in both robotic surgery and undersea abd hyperbaric oxygen therapy and medicine. Dr. Kashani has been a member of Valley Presbyterian Hospital's Medical Staff since February 2009.
He received his medical degree from Rosalind Franklin University in Chicago, Illinois, and completed his residency at UCSF – East Bay Surgery Program in Oakland, California. Dr. Kashani completed his fellowship in minimally invasive, advanced laparoscopic, and bariatric surgery from Cedars-Sinai Medical Center in Los Angeles, California.
Dr. Kashani is an active member of various societies including American Society for Metabolic & Bariatric Surgery, Society of American Gastrointestinal and Endoscopic Surgeons, American College of Surgeons and American Medical Association.
Dr. Kashani devotes his time to mentoring students and residents as an assistant clinical professor of podiatric medicine and surgery at the Western University of Health Sciences, and as an assistant clinical professor at the UCLA School of Nursing.
Besides his medical practices in the United States, Dr. Kashani has devoted his time and skills to free medical missions internationally and supports the art community by establishing and sponsoring a non-profit art gallery in the Los Angeles area.