Valley Presbyterian Hospital Receives Commitment from Philanthropist to Match Funds Raised for Emergency Room Renovation
Category: News
Posted On: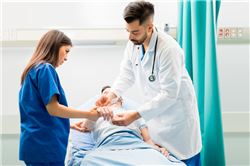 VAN NUYS, Calif. –Valley Presbyterian Hospital has received a generous commitment from David and Jean Fleming to match donations up to $50,000 to complete the hospital's Emergency Department renovation. For years, the hospital has faced a growing challenge to treat twice as many patients as the facility was designed to accommodate. The renovation is underway to expand capacity, upgrade infrastructure and improve patient comfort.
The renovation will include adding 14,505 square feet of space that will accommodate 10 more treatment beds, enabling physicians to treat more patients with greater effectiveness. At an average rate of 4-5 patients per day, per bed, that's up to 50 additional patients per day and more than 18,000 over the course of a year.
David W. Fleming, senior advisor to California State Senator Robert Hertzberg, and former speaker of the California Assembly helped lead the Gateway to a Healthy Future campaign as Co-Chairman of the campaign to raise 20% of the total renovation budget.
"We can't do it alone," said David Fleming, Chairman Emeritus of the Valley Presbyterian Hospital Board of Directors. "We're grateful for support from business leaders and philanthropists to help us make a difference in our community and double the impact through this matched contribution."
Valley Presbyterian Hospital is one of the largest independent, nonprofit community hospitals in the San Fernando Valley, with the vast majority of its patients relying on Medi-Cal, and one-third of the children it treats living below the poverty line. With over 20% of uninsured residents in the hospital's service area, the Valley Presbyterian Hospital Foundation is dedicated to supporting the hospital through private donations and philanthropic partnerships.
The matching gift is tax-deductible. For more information about how your contribution can be matched dollar for dollar, please visit www.valleypres.org/GivingTues.aspx.
About Valley Presbyterian Hospital
Valley Presbyterian Hospital (VPH) is an independent, nonprofit and nonsectarian hospital serving the medical needs of the San Fernando Valley community for more than 60 years. VPH has grown to become one of the largest acute-care hospitals in the region and continues to provide patient-centered care for a healthy community. The 350-bed facility offers advanced technology and a full range of medical services to improve and save lives.
Contact 
Tori McNees, CFRE
Valley Presbyterian Hospital Foundation
Development Manager
(818) 902-2904
Tori.McNees@valleypres.org