Tanzaneka (Tanzi) Buckor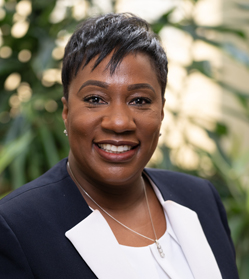 Interim Chief Nursing Officer
Tanzaneka (Tanzi) Buckor was appointed Interim Chief Nursing Officer in June 2023. She joined Valley Presbyterian Hospital in November 2022 as Associate Administrator, Patient Care Services . She brings more than 10 years of nursing leadership experience to Valley Presbyterian Hospital and over 16 years of overall nursing experience. Prior to joining Valley Presbyterian Hospital, Ms. Buckor served as Director of Nursing at Methodist Hospital of Sacramento, an acute care hospital and Distinct Part Skilled Nursing Facility within Common Spirit Health.
As Associate Administrator, Patient Care Services, Ms. Buckor works in an administrative capacity to assist the Chief Nursing Officer. She is responsible for the overall management and operations of the nursing departments, which includes hiring, supervising, and development of leaders.
Ms. Buckor received a master's degree in healthcare innovation from Arizona State University, and her bachelor of science in nursing from Capella University.